Closed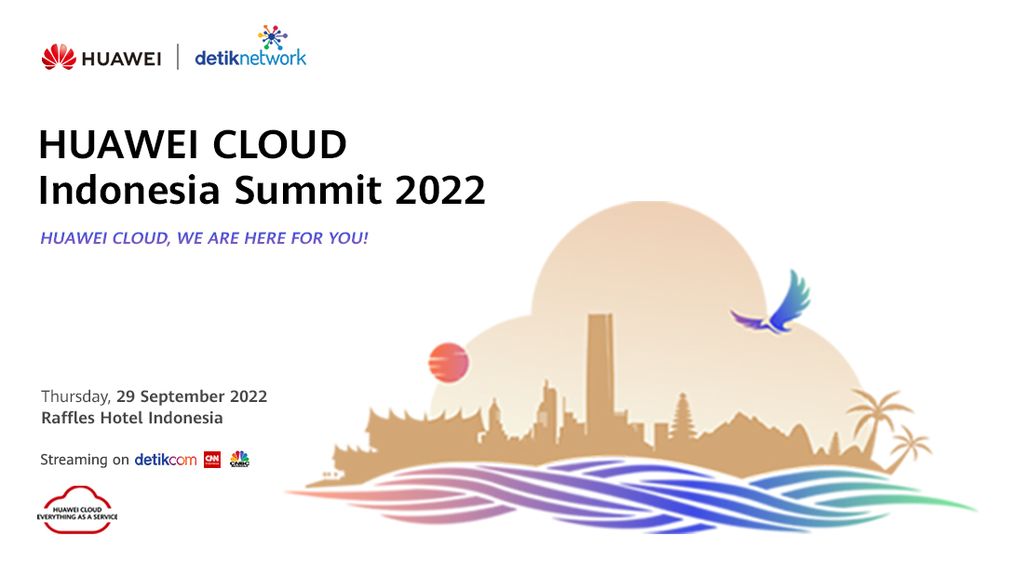 Huawei Cloud Indonesia Summit 2022
29 September 2022
Highlight
This summit provides a perfect opportunity for you to connect with industry visionaries, business leaders & explore the future directions as well as the real-world use cases of digitalization.

Online Streaming

29 September 2022
Deskripsi
Huawei Cloud Indonesia Summit 2022 - With the theme "Building the Cloud Foundation for an Intelligent Indonesia", this summit provides a perfect opportunity for you to connect with industry visionaries and business leaders, and explore the future directions as well as the real-world use cases of digitalization.
An advocate of customer-centric innovation. Huawei Cloud is committed to provide Everything as a Service to drive concrete value for customers and foster a robust ecosystem with partners.
We are excited to invite you to Huawei Cloud Summit Indonesia 2022. Join us and stand a chance to win the lucky draw (terms and condition applied). Don't miss it! See you soon in Huawei Cloud Indonesia Summit 2022!
The speakers:

Jacqueline Shi - President Global Marketing and Sales Service Huawei Cloud
Inka Yusgiantoro - Head of the Financial Services Sector Research Department, OJK
Sarwoto Atmosutarno - Chairman Mastel
Jacky Chen - CEO Huawei Indonesia
Zeng Xingyun - President Huawei Cloud APAC
Mevira Munindra - Country Manager IDC Indonesia
Bagus Setiawan - CTO detikNetwork
Aditya Windarwo Business - VP Bank Neo Commerce
Subhan Novianda - CEO CargoShare part of AnterAja Group
Jonathan Zhou - Vice President Huawei Cloud Marketing
Leo Jiang - Chief Digital Officer Huawei Cloud APAC
Mark Chen - Vice President Global Marketing and Sales Service Dept, Huawei Cloud
Simon Wu - CTO Huawei Cloud APAC
Nicolaas Tamalate - Moderator Huawei Cloud
Suyanto Tjoeng - CEO AnterAja
Thomas Lahey - Executive VP Strategic BCA
Michael Hariman - CTO Gramedia Digital Indonesia
Wilbertus Darmadi - CIO Toyota Astra Motor
Xu Shushu - Director Device Ecosystem Business Growth Huawei Indonesia
Leonitus Adhika Pradhana - CPO Sirclo
Mikiko Steven - Director Xendit
Dani Wejayana - Country Manager Rootcloud Technology Indonesia
Ruby Zhou - CEO Sunline Indonesia
Kwee Yoong - Vice President TrustDecision
Nicole Lu - Vice President Huawei Cloud APAC Ecosystem Dept
Luik Lu - Regional Partner Director Huawei
Bing Zuo - Moderator Huawei
Hery Sentosa - COO CBN
Budi Lesmana Halim - President Director PT Soltius Indonesia
Bagus Santoso - Managing Director PT. Paramitha Adikarya Teknologi (Totech Indonesia)
Amien Krisna - CTO Dataxet
Adres Ginting - Director PT Sisnet Mitra Sejahtera
Yuwono Pranata - President Director MBT
Kuseryansyah Kus - Executive Director AFPI
Tanto Suratno - Director of Business & Sales Telkomsigma
Daniel Zhang - Managing Director PT. Indonesia China Mobile

The schedule :
Date : September 29th, 2022
Time : 09.00 - 12.30 WIB
Date :
September 29th, 2022
Time :
09.00 - 17.00 WIB
Location :
Hotel Raffles Jakarta, Indonesia
Syarat & Ketentuan

1. Pemesanan tiket dianggap berhasil/selesai setelah Anda menyelesaikan seluruh proses pemesanan tiket.
2. Setelah berhasil melakukan pemesanan tiket maka status Anda adalah pending, hal ini berarti pesanan tiket Anda sedang menunggu diterima/disetujui/approve atau ditolak oleh tim detikEvent.
3. Apabila pemesanan tiket tersebut telah diterima oleh tim detikEevent maka Anda akan menerima email konfirmasi berupa notifikasi pemesanan tiket diterima dan mendapatkan E-Tiket disertai dengan kode tiket dan QR code.